Comparative Literature 30A:
Major Works of European Literature: Classical and Medieval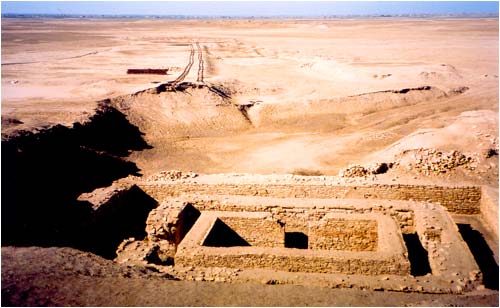 The Walls of Uruk, built by Gilgamesh

Time and location: MW 12:30-3:20pm, Girvetz 1119
Enroll code: 01172
Instructor: James Donelan


Books:
Gilgamesh
Homer, The Odyssey
Sophocles, The Three Theban Plays
Plato, Symposium
Virgil, Aeneid
Beowulf
The Poem of the Cid
Dante, Inferno
A reader available at Graphikart.


Course Requirements:

Students must attend all lectures and discussion sections. Discussion sections will be held during the last hour of each class. The course also requires two five-page essays, a take-home midterm, and a final, along with a brief prospectus and an outline for each essay. Grades will be determined as follows: first essay, 20%; take-home midterm, 20%; second essay, 25%, final, 30%, participation, 5%. The essays will be critical interpretations of a work or works examined in the course, with scholarly secondary sources and proper MLA citation style. The take-home midterm will be an open-book synthesis of ideas from the works studied in the first half of the course. The final will be a standard comprehensive examination of all works in the course (with emphasis on the second half). 


Course Policies:

Papers should be no longer or shorter than the length assigned and submitted on time.
Use twelve point type, in Times New Roman or CG Times.
Late papers will result in grade reductions.
Never submit an assignment without proofreading it carefully.
Your classmates and your instructor depend on your presence in class and your full participation. Do not miss class.
University regulations regarding plagiarism will be strictly enforced.
Syllabus:
6/23 Introduction: Literature in the Ancient World  Notes More Notes

6/25 Gilgamesh, The Exaltation of Innana (reader) Notes More Notes

6/30 Homer, Odyssey I-XII, Parry essays (reader) Notes More Notes

7/2 Homer, Odyssey XIII-XXIV, Auerbach, "Odysseus' Scar" (reader)  Notes

7/7 First paper due ; Sophocles, Oedipus Rex, Antigone Notes More Notes

7/9 Aristotle, excerpts from Poetics (reader); Plato, Symposium  Notes

7/14 Take-home midterm due ; Virgil, Aeneid I-VI Notes

7/16 Aeneid, VII-XII Notes

7/21 Beowulf Notes

7/23 Second essay due ; The Poem of the Cid Notes

7/28 Dante, Inferno, Freccero, "Medusa" (reader)

7/30 Final examination.