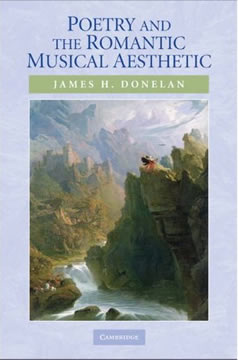 James Donelan

---

B.A., Ph.D. in Comparative Literature , Yale University , 1985, 1993

---

Book
Poetry and the Romantic Musical Aesthetic
Cambridge University Press, 2008
James H. Donelan describes how two poets, a philosopher, and a composer – Hölderlin, Wordsworth, Hegel, and Beethoven – developed an idea of self-consciousness based on music at the turn of the nineteenth century. This idea became an enduring cultural belief: the understanding of music as an ideal representation of the autonomous creative mind. Against a background of political and cultural upheaval, these four major figures – all born in 1770 – developed this idea in both metaphorical and actual musical structures, thereby establishing both the theory and the practice of asserting self-identity in music. Beethoven still carries the image of the heroic composer today; this book describes how it originated in both his music and in how others responded to him. Bringing together the fields of philosophy, musicology, and literary criticism, Donelan shows how this development emerged from the complex changes in European cultural life taking place between 1795 and 1831.
Dissertation
Self-consciousness and Music in Early Romanticism: Hölderlin, Hegel, Wordsworth, and Beethoven
Director: Cyrus Hamlin
The dissertation describes how music became a metaphor for the philosophical problem of self-consciousness at the beginning of the Romantic period, affecting musical and poetic composition. Analyses of Hölderlin's late poetry and Hegel's aesthetic lectures demonstrate the German Idealist transformation of aesthetic theory; interpretations of Wordsworth's Prelude and Beethoven's String Quartet No. 13 in Bb trace the development of a musical concept of Romantic self-consciousness.

---
Teaching Experience
Writing Program, The University of California, Santa Barbara
Writing for the Humanities: Romanticism, Lecturer, 1997-2007
Writing for the Humanities: Modernism, Lecturer, 2006-2007
Writing for the Humanities: The European Enlightenment, Lecturer, 1999-2004
Writing for the Social Sciences: Globalization, Lecturer, 2005-2006
Writing for the Social Sciences: Haitian Culture and Society , Lecturer, 2002-2004
Writing for the Legal Profession , Lecturer, 2000-2004
Writing and the Research Process , Lecturer, 1997-2003
Academic Writing: The Modern World, Lecturer, 2005
Academic Writing, Classical Civilization, Lecturer, 2005
Academic Writing: Environmental Studies , Lecturer, 2003
Academic Writing: Art History , Lecturer, 2001
Academic Writing: Political Science, Lecturer, 1999-2001
Academic Writing, Lecturer and Supervisor, 1997-1998
Approaches to University Writing, Lecturer, 1997
Department of Comparative Literature, The University of California, Santa Barbara
Major Works of European Literature, Classical and Medieval, 2003-2005
Major Works of European Literature, Renaissance to Neoclassical, 2004

Major Works of European Literature, Romantic and Modern, 2003
Romantic Revolutions : Philosophy, History, and the Arts in Europe, 2002-2005
Department of English , The University of California, Santa Barbara
British Romantic Writers, 2008

The Younger Romantics: Shelley, Keats, and Byron, 2006
British Literature from 1789 to 1900, 2002
Science Fiction , Lecturer and Supervisor, 2000-2007
Darwin and the Nineteenth-Century Novel, Lecturer, 2000
Department of Rhetoric , The University of California, Berkeley
The Rhetoric of Sound: Poetry and Music, Lecturer, 1997
The Rhetoric of Autobiography, Lecturer, 1997
Department of English , Yale University
Modern Prose: Advanced Writing, Instructor, 1996
Reading and Writing Prose, Instructor, 1995
Introduction to Literary Study, Instructor, 1994-1996
The Modern British Novel, Teaching Fellow, 1988-1989
Bass Writing Program, Yale University
Daily Themes, Tutor, 1995, 1996
Writing Tutor, Calhoun College, 1995, 1996
Department of Germanic Languages and Literatures , Yale University
Opera in Germany: Mozart to Kurt Weill, Lecturer; 1993, 1996
Introductory German, Instructor, 1993, 1996
German for Reading, Course Chair and Instructor, 1989-1990, 1992-1995
Intermediate German, Instructor, 1992, 1994
The German Tradition: Goethe to Nietzsche, Teaching Fellow, 1988
The Literature Major and the Department of Classics, Yale University
Myth, Science, and Philosophy in Classical Antiquity, Teaching Fellow, 1987, 1989

---
Other Publications and Lectures
"Researching Fully Online Instruction: Assessment, Pedagogy, and a New Theory of Hybrid Online Learning Environments on the Border of the 'Real' and 'Virtual Worlds'" Conference on College Composition and Communication (CCCC), New Orleans, April 4, 2008 (scheduled)

"Institutional Policy and Faculty IP Rights: Redefining Instruction and Research in Composition" Intellectual Property Caucus, Conference on College Composition and Communication (CCCC), New Orleans, April 4, 2008 (scheduled)




"The Desire for Music: Enlightenment Ideals in Mozart's Don Giovanni" International Comparative Literature Association, Venice , Italy , September 25, 2005

"Hegel and the Machine: Scholarly Self-Creation in the Digital Classroom" Conference on College Composition and Communication (CCCC), New York, March 23, 2007

"Owning Your Handouts: Negotiating Intellectual Property Rights in Research Universities" Intellectual Property Caucus, Conference on College Composition and Communication (CCCC), New York, March 21, 2007

"A New Kind of Violin: Challenges in Research and Administration for Computer Assisted Writing Pedagogy" Writing Research in the Making, UC Santa Barbara , February 6, 2005

"Connections Across California: Building an Online Community with UC WRITE, The University of California Writing Institute" Computers and Writing 2004, Honolulu, Hawaii, June 10-13, 2004 (proposed)

"Style as Territory: Rhetorical Boundaries in Humanities Scholarship"
American Comparative Literature Association, California University, San Marcos, April 4-6, 2003.

"Classrooms, Computer Labs, and Remote Locations: Integrating the Three Spaces of Computer Aided Interactive Writing Courses" with Charles Donelan.
ALLC/ACH 2002, Tübingen, Germany, July 24-28, 2002.

"Course Design Strategies for Computer Assisted Interactive Writing Classes." Computers and Writing 2002 Conference, Normal Illinois, May 16-19, 2002

"Hölderlin's Poetic Self-consciousness." Philosophy and Literature 26:1 (2002) 147-164.

"'Near and Hard to Grasp': Interpretation and the Ontology of Poetry in Hölderlin's Translations." American Comparative Literature Association, University of Puerto Rico, Rio Piedras, April 11-14, 2002.

"Power and the Aesthetic in the Systemprogramm Fragment." American Comparative Literature Association, University of Colorado, April 20, 2001.

"History and Rhetoric in Comparative Arts: Teaching Advanced Humanities Writing Through Interdisciplinary Intellectual History" Indiana University Comparative Arts Conference, April 5-8, 2001.

Review of Terry Pinkard's Hegel: A Biography, Philosophy and Literature, 24: 2 (2000) 477-479.

"Absolute Music and the Literary Absolute: Hegel and the Disciplinary Boundaries of Poetry and Music." American Comparative Literature Association 2000, Yale University, February 25, 2000
"Mozart and Enlightenment Thought." Karpeles Museum, September 26, 1999. Text available here.

"Berg's War on Form: Historical and Formal Context in Wozzeck." Twentieth-Century Literature Conference, University of Louisville, Louisville KY, February 22, 1997

"Hölderlin and Shelley: The Consequences of Poetic Philosophy." American Conference on Romanticism, Marquette University, September 24, 1995

Comparative Reader, Ernst Cassirer, The Philosophy of Symbolic Forms, Volume IV: The Metaphysics of Symbolic Forms tr. J. M. Krois (New Haven: Yale UP, 1996)

"Wordsworth and Hegel: Studies in Romantic Subjectivity." Deep Springs College, 1994

"Hoffmann and Hegel: A Hidden Controversy Concerning the Ontology of Music." Yale Graduate German Studies Conference, April 10, 1994

"Hogarth's A Midnight Modern Conversation." Yale Center for British Art, October 1992

"The Argument from Noise: A Review of Black Athena . " Critical Texts, IV:3 (1989) 98-108
---

Teaching Fields
English and German Romanticism; English Composition; Humanities Research Writing; German Language; Opera; Poetics and Versification; Contemporary Poetry; Literary Theory; Musicology; Idealist Philosophy; Modernism; Autobiography; Aesthetics; Science Fiction; Legal Writing; Victorian Novel, Epic Poetry
---

Fellowships, Awards, and Seminars
Nomination for UC Santa Barbara Award for Excellence in Teaching, 1999, 2000, 2001 , 2002
NEH Summer Seminar "Literature and Music," 1994
Fellow of the Aston Magna Academy, 1993
Yale Department of German Language Pedagogy Seminar, 1993
DAAD Fellowship to Universität Tübingen, October 1990-December 1991
Yale University Fellowship, 1985-1989
Distinction in the Major of Comparative Literature, Yale College, 1985
---

Department Service
Co-Director, UCWRITE : University of California Writing Institute
Chair, UC Santa Barbara Faculty Professional Development Council

Computer Assisted Interactive Writing Coordinator

Chair, Writing Program Colloquium Committee
Chair, Computers and Rhetoric Committee (1998-2001)
Chair, Academic Writing Textbook Committee (1997-1998)
Academic Writing Curriculum Committee (1998-2001)
Teaching Assistant Supervisor (1998-1999)
---
Contact Information
Writing Program
UC Santa Barbara
Santa Barbara CA 93106
(805) 893-8329 (phone)
(805) 893-7699 (fax)
donelan@writing.ucsb.edu
Back to J. Donelan's Course Page

---
Family Photos
This page last updated on May 15, 2007